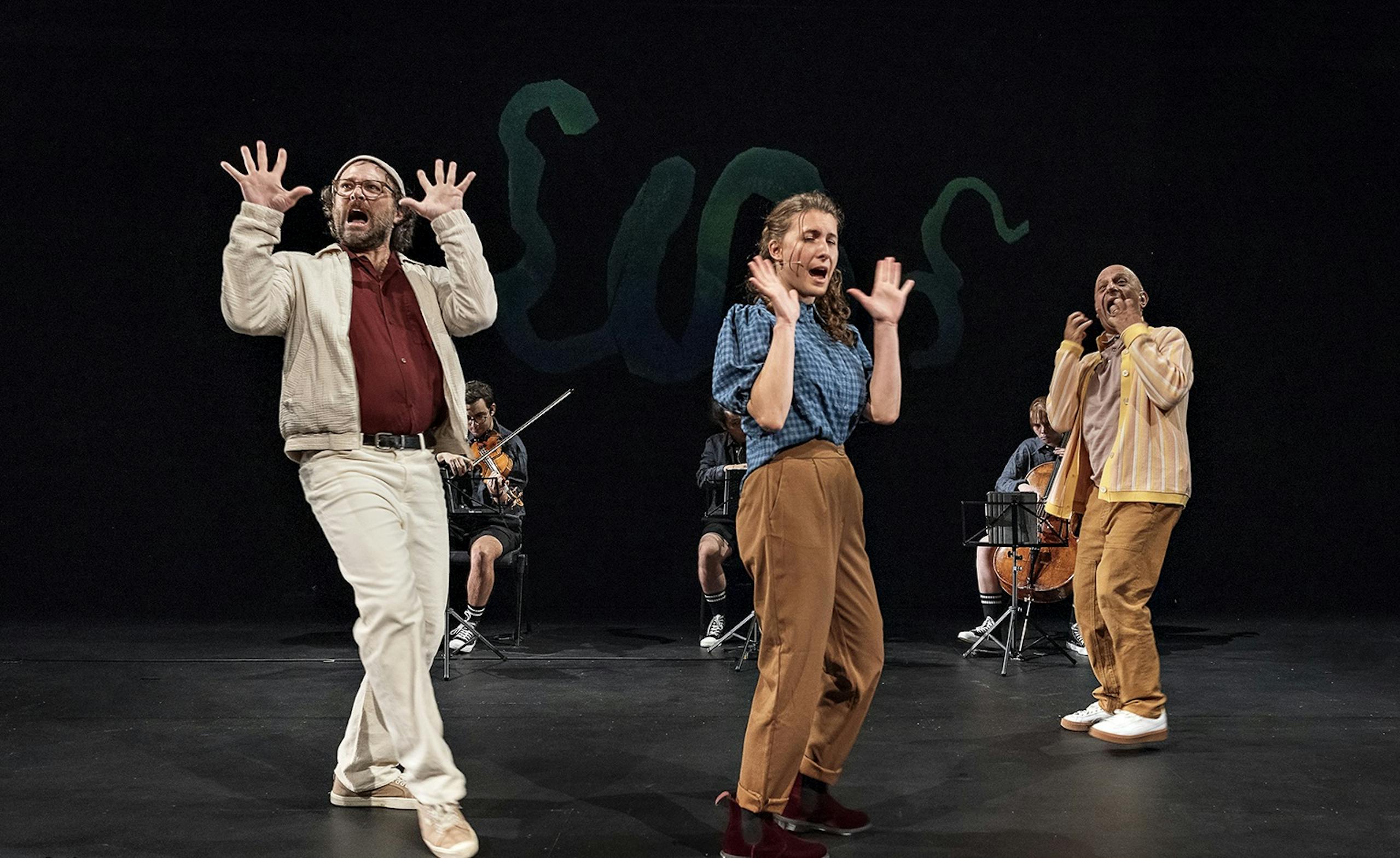 Bad Dante Bad English Bad Opera
Spreafico Eckly –Matteo Fargion
Running time 90'
Performance in English with theater programme
Humor, experimentation and string symphonies: four performers and three musicians reconstruct Dante's journey among wandering souls and their stories. On a minimal stage, an anti-academic interpretation of the first nine cantos of Dante's Purgatorio combines acting, singing, dance and chamber music. The work translates the strict discipline of the original metrics into informal English, taking off from the Comedy the aura it acquired over the centuries, and bringing it back to its original "vulgar" dimension. In this setting, the feeling of limbo and suspension is cleverly and entertainingly presented as a shared human experience, between the search for justice and redemption, nostalgia and anger.

Spreafico Eckly is an international company based in Bergen (Norway) founded and directed by Andrea Spreafico. With a constant drive for detailed dramaturgy and planned creative processes, Spreafico Eckly tends to challenge the boundaries of genres, moving freely among dance, music, theater and theory. The company creates its works in collaboration with experienced artists, such as Matteo Fargion, Theater Replacement, Robert M Johanson and Nicola Gunn. Andrea Spreafico holds a Phd in philosophy from the University of Bologna and Reims and a Diploma in Art and Public Spaces from the Academy of Fine Arts in Nuremberg and is currently Associate Professor in the art program of the Bergen School of Architecture (BAS).

Matteo Fargion (1961) is a composer, performer and teacher. His eclectic work, stemming broadly from the English Experimental and New Simplicity movements, embraces the handmade and the small scale. He is known as much for his long standing collaboration with choreographer Jonathan Burrows as for the music he continues to write for concerts, theatre and dance performances. Uniquely he began not only to accompany the dance with his music but to become part of it, influencing a new generation of composers drawn to performance work. Fargion continues to tour and teach widely with Burrows, developing new forms of performance collaboration. Matteo Fargion has also recently collaborated with Mette Edvardsen on two pieces: oslo and the opera Penelope Sleeps. He is currently working with Spreafico Eckly on a second opera based on Dante's Purgatorio.
...more
Calendar
Wednesday, March 22 2023, 6.30pm
Thursday, March 23 2023, 6.30pm
Highlights